Double Down: To double or significantly increase a risk, investment, or other commitment.
A fitting description for the ride the boys at Stinner Frameworks dubbed the Stinner Double Down. A 215 mile loop around Santa Barbara County that includes nearly 15,000 feet of ascent. Set to start/finish at the Stinner Frameworks headquarters, heading southeast past Lake Casitas on the 150, passing by Ojai heading north on the 133 by Pine Mountain. From there heading west toward Cuyama and New Cuyama, to the 166 skirting the edge of Santa Maria, then connecting to Foxen Canyon Rd via Tepusquet Road. Onto the final southbound stretch to the 154, up and over San Marcos Pass on Stagecoach Rd., descending back to the start. A way to bid one of their employees farewell and a way for a couple of us to break into our 40th year on the planet in style. It started as a conversation, was taken to email invitation format and eventually into a training plan, with only the most masochistic local riders committing to the task. One hell of a gamble, if you asked me, so of course I was in.
It's hot, way too hot and we're more than 5 hours into the ride. Temps are hovering around 105º F in the shade, but there really isn't any shade so it's actually 110º. To add to that we're riding into a headwind, so it pretty much feels like hanging out in a convection oven staring down a long, long, straight road. Accomplishment is hardly realized, it's as if we're staring at the screen of a 1980's era "Pole Position" video game just repeating a slightly changing animation. When the SAG vehicle approaches riders scurry to the window to give/retrieve bottles one by one. That is unless the SAG vehicle was unleashing a barrage of high powered squirt gun spray onto the grateful peloton. Only to disappear up the road leaving us back in our temporary state of purgatory. Feet cooking, brake hood melting, brain frying heat. This moment was the equivalent of turning over our cards and holding up one finger to the dealer, signaling the Double Down.
Much earlier in the day we arrived at Stinner headquarters, preparing to roll out of our mild coastal climate in temperatures 50% cooler just after 5am. Originally we were told there would be a rented van with driver and photographer, that would act as our SAG and worst case scenario, should any rider needing to abandon for whatever the reason. The first thing I noticed was that there was only a mid size SUV, with driver, photographer and all the rider's supplies filling the back. If things were reorganized there would be room for 2, maybe 3 max, to jump in and be relieved from riding. We also did have another small car meeting up with us at some point in the day, so that added 1, maybe 2 spots for bail out-ers.
The early miles were fun, giddy almost, yet staying within our selves, climbing slow and chatting off the nervous excitement that buzzed in the group. We had the pleasure of another dozen or so local riders that joined us for the ride out to Rose Valley, about the first 50 miles and then head back to town the same way. It was a really cool display of support and great to have the company. All the while I just had it in the back of my mind how important it was to stay up on food/hydration as well as conserving energy for the full day ahead. I did not want to get into a vehicle at any point of the ride.
About halfway through the day we found ourselves in New Cuyama, huddled against the wall of a convenience store in the shelter of 2-3 feet worth of shaded sidewalk. Bidon filling, food eating/getting, sunscreen applying, shoe loosening, sweating, squirt gunning, ice panty hose prepping and generally bucking up for the next 100+ miles. We got some pretty classic looks from New Cuyama residents as they gawked at the group, trying to make sense of why anyone would be doing what we were doing.
These next 40 some odd miles seemed to take an eternity, around every corner we hoped to see the base of Tepusquet Rd, the next turn in our route that would finally point us back in the direction of the start. A smaller climb, compared to what we'd done, that would get us into the next valley over and hopefully out of the oven we'd been riding in for the 3-4 hours. At one point my attempt to get, "99 bottles of beer on the wall" going was answered by, "only C.J. would be talking right now…", in between breathing and bicycle parts whirring, it wasn't happening. That turn onto Tepusquet Road and our next resupply needed to happen soon.
The first casualties of nature's Hors Categorie weather and elements were claimed at this point. Heat stroke, or at least as close as it comes to heat stroke, forced the first full abandon on one rider. Another would accept a ride to the top of the hill, hoping that would allow enough recovery to rejoin for the descent and subsequent riding. Unfortunately about 15 miles after rejoining he would then pull the rip cord and get back into the car. At that point two more riders would jump ship and 12 became 8. That also set up the harsh reality that the SAG vehicles were full, there was no more option of quitting, to the finish was mandatory with about 45 miles left to go.
To our pleasure the temps had dropped back into the mid-low 80's, which felt like 65º, compared to the heat we had endured for hours before. Increasingly familiar territory served as a stimulus for success. Miles ticked down, everyone was tapping into the reserve tanks and we started a series of rollers that would lead to our final climb of the day and a super sweet descent to the finish line.
Pizza, beer, camaraderie and congratulations were shared after enduring an extraordinarily taxing suffer. A hell of a bet that certainly paid out in full. If this were an actual bet, at this point the house would have been broke, busted, tables closed for the night and "last call" would have been heard from the bartender.
I have to hand it to everyone involved, our friends who escorted us early on in the day, our crew who were crucial throughout the day, James and Matt treated us like pros in the SAG vehicle. James by the way, is also the man responsible for every paint job performed on each beautifully hand crafted Stinner frame. Matt not only clicked away and captured hundreds of memorable moments out there, he also did some serious casual clothing, tennis shoe wearing, bicycle riding on a couple stretches of uphill road. Big thanks to Steve's wife Kim, who provided support with the second SAG vehicle (which turned out to be very necessary). Gary Douville (directeur sportif of Stinner Frameworks) & Aaron Stinner (Founder/Fabricator of Stinner Frameworks), without their forward, somewhat twisted thinking and serious peer pressure I would have never thought to take something like this on (Cody leaned on me pretty good too). Bon voyage to Chris Ellefson, one of Stinner's highly valued fabricators, you'll be missed but your wife and the trails/roads in CO will be glad you're back. As for the other Double Downers, all of them, your tenacity, drive and inspiration lent to the group's success. I tell you I'm damn proud of everyone who was a part of this, really damn proud. Chapeau boys, until next time!
- C.J. Covarrubias
*All photos by Matthew Miller unless otherwise noted.
Full Cast of players;
Brandon Baker Jon McCuskey
C.J. Covarrubias Cody O'Reilly
Gary Douville Stephen Sehr
Chris Ellephson Aaron Stinner
Jason Hannon Steve Weixel
T.J. Myers Paul Wren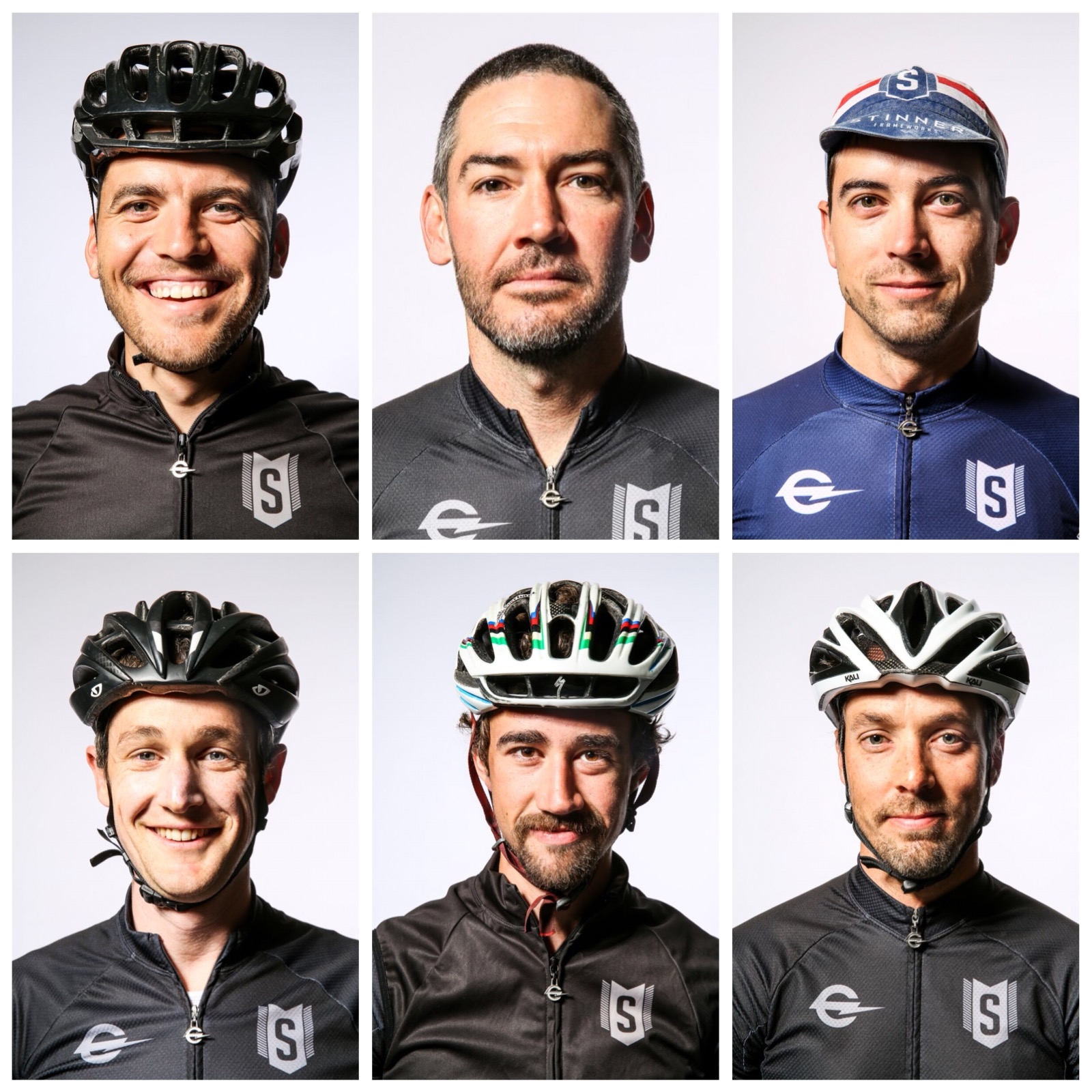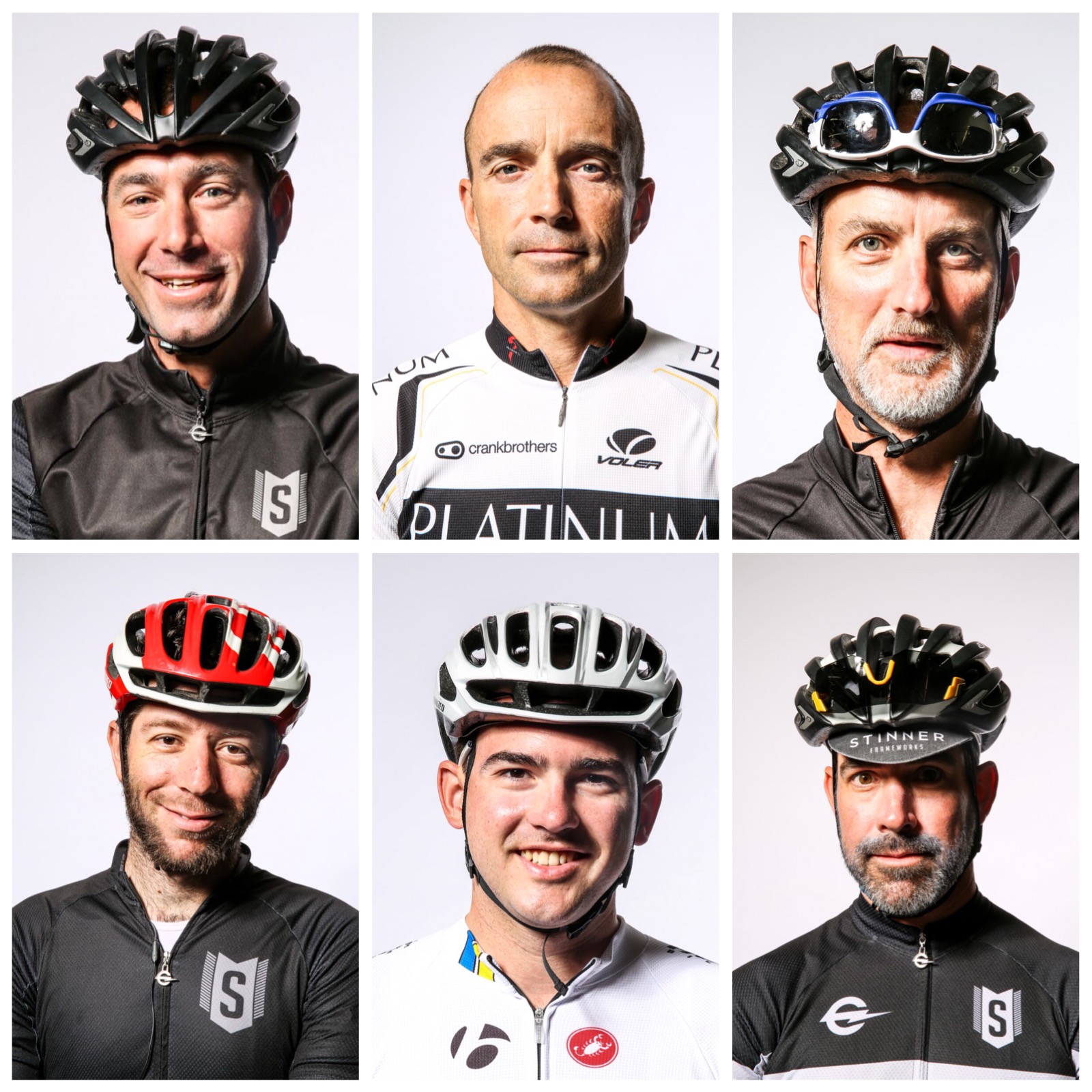 SAG/PHOTO/SQUIRT GUNS;
James Bellerue
Matthew Miller www.matthewchristophermiller.com
Kim Weixel
Tosh Clements www.toshclements.com
*For more information on the incredibly beautiful, extremely functional, custom Stinner bicycles visit www.stinnerframeworks.com .
C.J.'s Strava ride file: https://www.strava.com/activities/329634524